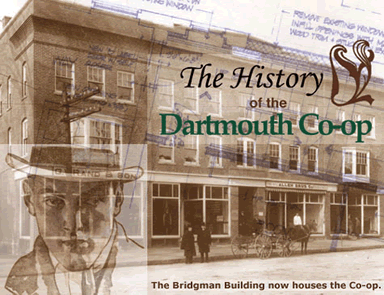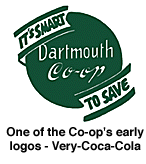 The Dartmouth Co-op was founded in 1919 by John Piane, a graduate of Dartmouth College. Established with only one store front, the Co-op expanded mid-century to occupy adjacent properties on Main Street.Logo Early Originally called The College Bookstore, Piane developed the business as its manager before eventually buying and renaming it the Dartmouth Co-op to better reflect the philosophy and product of the company. (In those days it was run almost entirely by Dartmouth students.) The Piane family owned and operated the Dartmouth Co-op until 1986 when a group of alumni, headed by Gene Kohn '60 and Allen Stowe '60 acquired the business. The Dartmouth Co-op has always maintained the traditions of Dartmouth with insignia goods, providing everything from Dartmouth dog bowls to Dartmouth grandfather clocks.
The Co-op has, also, always sold outdoor sporting gear. In 1919, John Piane began importing European skis to the Upper Valley. By 1932 the Dartmouth Co-op was manufacturing its own ski equipment. Not surprisingly, the Co-op had an important role in World War II as one the main designers and suppliers of ski equipment to the American, Russian and Turkish Armies. Today, the Dartmouth Co-op sells clothing that works well in the North Country, but current products are exclusively Dartmouth logo items.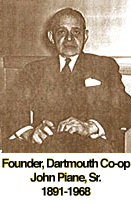 Piane was born in 1891 to a first generation Italian family with roots in Campo Baso, Italy, just south of Milan. Growing up in Manhattan's Lower East Side, Piane, the eldest male of six children, learned leadership at an early age, a characteristic, that with education and experience forged a fierce independence.
First accepted at Princeton University, Piane's matriculation to Dartmouth College was a chance occurrence. In the Fall of 1910, Piane visited friends in the Upper Valley area. After riding to Norwich, VT with a trainload of rowdy Dartmouth freshman, Piane boldly marched straight to the Dartmouth Admissions Office and asked to be enrolled. He was and graduated with the class of 1914. After serving in World War I and spending a brief time in New York working at Citibank, Piane returned to his Alma Mater to found the Co-op. Decidedly workaholic, Piane nurtured the Co-op from its infancy and laid the groundwork for the Co-op of today.